Cornell Co-Pilot consists of hardware mounted to the pump, a cloud-based data interface, and optional sensors. For pumps not designed to support the pilot hardware, a mounting kit is available.
Mobile App and Desktop Web Access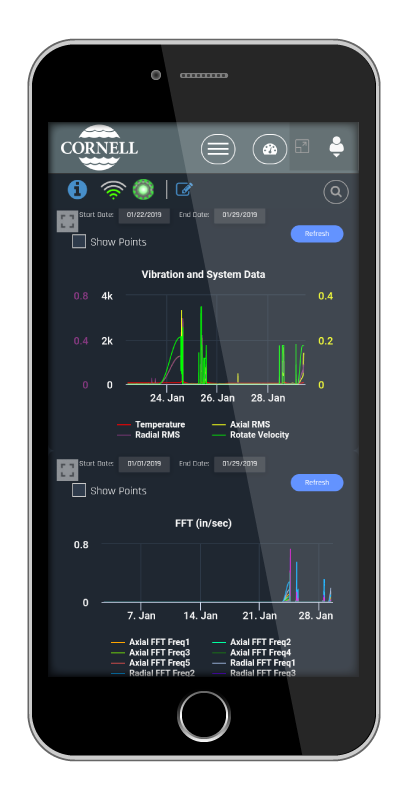 Every Co-Pilot subscription includes access to Cornell's Co-Pilot portal. The portal provides remote pump management either via your computer's web browser or our iOS and Android Apps. Through the portal, users will gain insight into several aspects of specific pump related information, running conditions, and overall pump health.
Historical vibration data
Vibration levels represent a significant importance to overall pump health and running conditions. Our vibration system embedded into the Co-Pilot can lead to insight on pump wear, cavitation, improper mounting, required maintenance, upcoming failures, run time, and more. The portal allows insight into current vibration levels, as well as historical information, leading back to the day your Co-Pilot was activated.
Track your pump's location
Through the Co-Pilot portal, users can clearly and easily track their pump's current location as well as look at where their pump has been. An alert can also be set to know if your pump is in motion. Pump location can be seen on an individual device level or view all your connected pumps on a single over-world map.
Access specific pump related documents
Because each Co-Pilot device is directly linked to your pump's serial number, Cornell can provide access to various pump related documents. Exploded view drawings are linked to clearly show your specific pump's construction and a complete Bill of Materials for faster and more accurate part identification and ordering. The pump's operation and maintenance manual is linked for quick access to the most up to date information. With Co-Pilot, there is no more searching for pump curves as they are also included in the portal for easy reference.
External sensors (Requires Co-Pilot Plus Subscription)
The Co-Pilot snapshot page, accessed via the portal, provides insight into any and all connected, outside sensors. This page provides immediate insight into your pump's performance. Depending on the sensors connected, you can access inlet & discharge pressures, flow data, and more. This data can also be viewed in a historical graph to accurately diagnose problems and provide corrective action. Various alerts can be set by users to be notified when pumping conditions reach specified levels.
Pump Control (Requires Co-Pilot Pro Subscription and compatible modbus enabled device)
When Co-Pilot is connected to a compatible, modbus enabled device, the pump control page provides data incoming from the external device. Engine controllers, VFD's, soft start panels, PLC systems, etc. are just some examples of what Co-Pilot can communicate with, providing back critical information. Through the Co-Pilot portal, you can also send commands to these devices in order to perform actions such as remote start/stop, vary RPM, etc.
Compatible Sensors
Cornell offers a variety of pressure transmitters that have gone through extensive testing and calibration to ensure the level of robustness and reliability you have come to expect from a Cornell product. These sensors are chosen specifically for their compatibility with our Pilot monitoring system as well as our line of pumps. Please review our data sheet for more details about our pressure transducer line-up. Contact us for assistance in choosing the appropriate sensor for your specific pumping application.
Bearing Frame Retrofit Kit
While Cornell is moving forward to modify all existing pump models to ship with designated mounting locations for Co-Pilot, we also realize the need to outfit existing pumps in the field with our Co-Pilot system. Retrofit kits are now available for certain bearing frame pump models. Our retrofit kits allow quick and easy of mounting solutions without sacrificing the critical data being monitored and collected. Please contact us today with your pump's serial number for help choosing a kit that works for you.
Co-Pilot Hardware
The Co-Pilot module has a weatherproof, IP65-compliant enclosure and will operate in temperatures from -22°F/ -30°C to 158°F/70°C. It supports either battery operation or external DC power. Without additional sensors, the base hardware unit will record and monitor vibration, temperature, and GPS location. Up to five additional sensors can be connected to monitor pressure, flow, start/stop operations, and more.